Crypto Chronicle with NewsCrypto
Greetings, fellow crypto enthusiasts! It's NewCrypto, your go-to for everything crypto.
I mean, we've come to this point that you need to be excited about our newsletter hitting your inbox as Ross was in one of the Friends episodes.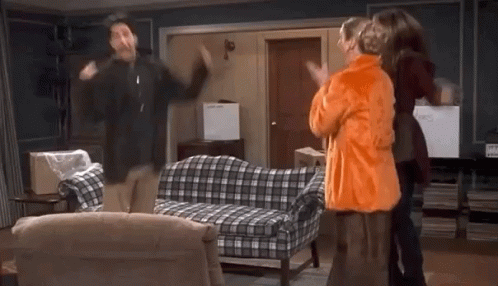 Before we start, we need to tell you that from now on, the weekly crypto recap newsletter will be sent on Mondays (before it was Thursdays).

This week (on Tuesday), we also started with a new series of newsletters called Crypto Chronicle with NewsCrypto. Throughout the week, we'll send 1 or 2 chronicles.
Enjoy☕️
---
What's on the menu today?
1. Mastercard and Visa abandoning crypto
2. Coinbase at war with Binance?
3. Funny meme
---
1. End of the Mastercard, Visa and crypto triangle love story?
A rumor has been going around that apparently, Visa and Mastercard are too scared to hang out with their crypto friends because they keep going bankrupt and causing trouble with the regulators. It's like they're the cool kids at school and the crypto firms are the new kids on the block, but Visa and Mastercard are worried about their reputations if they're seen with them. Talk about being two-faced! But hey, at least they're honest about needing some market conditions and regulatory improvement before they're ready to party with the crypto crew again.
But let's stop the horses. It turns out that Visa isn't breaking up with crypto after all and that we have been deceived!
Cuy Sheffield, the head of product at Visa, tweeted that the Reuters report is as inaccurate as your ex's Tinder profile. In fact, Visa is still going strong with their crypto partners and working hard to make stablecoin payments as easy as stealing candy from a baby (but don't do that, it's not cool). So don't worry, folks, Visa and crypto are still very much together, and they're not afraid to show it.
https://twitter.com/cuysheffield/status/1630600554069082112?s=20
Mastercard is also not giving up on crypto yet! According to a spokesperson, the company still plans to work with partners to bring innovative payment solutions and programs to market. And their focus is not just on cryptocurrency, they are also looking at ways to use blockchain technology to relieve some of the pains of the modern world. Who knew that blockchain could solve more problems than just "how to make Elon Musk stop tweeting about Dogecoin"?
---
Was this email forwarded to you? Sign up for our newsletter for FREE here:
---
2. $BUSD delisted from Coinbase
We know that the Binance stablecoin, $BUSD, is in hot water, as Recently Paxos had been ordered by New York Regulators to stop minting the token. Reportedly due to issues concerning the relationship between Binance and the issuer. I guess you could say that things are getting pretty unstable in the stablecoin world!
Thereafter, one of the largest exchanges on the planet, Coinbase, announced the delisting of the Binance stablecoin due to liquidity concerns. It's like the Binance stablecoin got dumped by its girlfriend and then its mom kicked it out of the house. And now, Brian Armstrong is adding insult to injury by saying, "sorry, BUSD, but it's not you, it's your liquidity."
Brian Armstrong told Bloomberg:
"The reason we did that was that Paxos, the issuer of BUSD, had been ordered to stop minting it, so we were concerned about liquidity issues for our customers"
More breaking news associated with Coinbase:
---
3. Funny Meme